Love for nature and butterflies combined with learning from Vistage helped Joseph Goh transform the Penang Butterfly Farm into Entopia, a world-class nature learning centre.
The Penang Butterfly Farm established in 1986 by David Goh has been totally redeveloped and transformed into the 100,000 sq ft world class nature learning centre called Entopia by his son Joseph Goh. Since its re-opening in May 2016, the number of visitors has jumped and revenue leapt from RM7 million to RM17 million. The total transformation reflects the success of a second generation CEO who has infused new ideas and rebranding to revitalise an ageing business. It is also a noteworthy example of how members in a Vistage Group not only share issues but also essential support when needed.
A visit to Entopia captivates both children and adults with its cocoon-like enclosure, nature-inspired gardens, live exhibits plus lots of learning opportunities about nature's invertebrates. Visitors come up close to 15,000 butterflies, many species of geckos, lizards, snakes, fire flies and other insects carefully housed with 200 varieties of plants. The remarkable changes in the indoor and outdoor attractions led Entopia to win the 2017 "Best Transformed Tourist Attraction Award" by INPenang magazine.
Entopia in Penang
This transformation from a butterfly farm to a nature learning centre had been many years in the making. Joseph Goh, CEO of Butterfly House (Penang) Sdn Bhd, reveals that there were many years of struggle, challenges and hard work. From 1999 he had to learn the business, revive the once loss-making farm and overcome obstacles.  In the process, he learnt from mistakes. But he reckons he became a better leader and entrepreneur after joining Vistage in 2006. He is extremely grateful to his Vistage Chair, Ooi Toon Kit and his group members in VCE-610. "I was not a business student. I needed extra learning and grew with Vistage, learning how to be an entrepreneur… how to grow a cottage industry," he notes.
As the eldest son, he had an early introduction to nature and the world of butterflies by his father. David Goh was an English teacher and self-taught entomologist. Joseph was keen on art and architecture. He travelled abroad, worked in the hotel line in the UK and studied architecture in the US. When he returned to Malaysia, he dabbled in art products. After joining Vistage, he slowly took over the running of his father's business and turned CEO. He had envisaged immense challenges, "I wanted to continue his legacy. Times have changed. The world has changed. How do I bring in elements of the future to last another 20 or 30 years?"
His architectural training and overseas exposure proved useful as Joseph Goh sought ideas to rejuvenate the butterfly farm. He found inspiration in Mother Nature and visualised what he wanted in terms of physical structures and interior designs for Entopia. "I could visualise where I want to go. The intricate design elements reflect the beauty and sophistication of nature," is how he puts it. He had models made of gardens, waterfalls, ponds and other structures to aid contractors in the redevelopment process.  So creative are his designs that a visitor to Entopia does not realise that he or she is walking a one-way 1.2 km path in a 2-storey building.  His love for the environment is evident in the green wall made up of 88,868 planting pockets filled with 22 plant species at the front entrance to Entopia. The green wall uses a hydroponic system, cooling the whole facade as water is circulated 24 hours a day from a rainwater harvesting tank.
On the business aspects, Joseph Goh toiled in the rebranding exercise. He chose a Vistage resource speaker as his branding consultant.  Still, it was a difficult process. "We had to dig deep into our soul to find out who we are and what we stand for," Joseph Goh reveals. After numerous workshops, his team decided on "Voices of Nature" to reflect the Entopia's niche in housing the many small creatures that make up 75% (invertebrates) of the animal world. "Our brand essence was to tell the public who they are, why they are here and their role in the eco-system," he explains. The name Entopia itself combines two words – entomology (study of insects) and utopia. Using this brand identity, the company designed exhibitions, multimedia and education activities to make Entopia  a nature learning centre to discover the world of butterflies and insects.
Breeding and export of pupae
The new identity and infrastructure required a hefty investment of RM50 million. Joseph Goh managed to secure several loans but one bank backed out at the last minute. Again, Vistage came into the picture. Four VCE-610 members came to his rescue. "If I had not joined Vistage, this would have been impossible. They came in not just for the business part but as friends to help me realise my dream. I am truly grateful," he acknowledges.
Beautiful butterflies in Entopia
Behind the transformation are entomology-related areas that supported Joseph Goh, namely research and butterfly breeding. Indeed these two areas are the keys to the long-term sustainability of a butterfly sanctuary. Since butterflies only live two to three weeks, they have to be constantly replenished. Over the years, researchers at Butterfly House (Penang) studied butterfly habitats, climate conditions and host plants for local butterflies. This is done through operating 10 butterfly breeding stations which not only supply butterflies locally but also export pupae to other countries.
With in-depth knowledge of butterfly breeding and  tropical butterfly habitats, the company also derives revenue from consultancy services in designing entomological set-ups such as vivarium, butterfly park and nature discovery centres. Its expertise can be seen in places such as Emirates Butterfly Garden, Abu Dhabi; Konya Tropical Butterfly Garden in Konya, Turkey and Changi Butterfly Garden at T3 Changi airport, Singapore.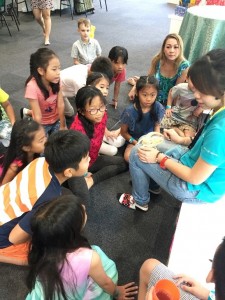 Children enjoying the nature learning activities
Evidently Entopia is another proud showcase. After more than one year of re-opening,  Joseph Goh has received positive feedback from visitors. In fact, the common comment is that there is too much to see and learn. There are six park attractions in the Outdoor Garden Section and eight attractions in the Indoor Discovery Centre. On top of this, there is numerous nature learning activities at different times of the day. As such, there are now plans to tweak some exhibits and revamp some sections.
In the longer term, a Phase 2 development for Entopia is envisioned. Joseph Goh plans to tap the Meetings, Incentives, Conferences and Exhibitions (MICE) market by adding three more floors to the current structure to offer meeting and function facilities. The top floor will be a full function hall with an open concept garden encapsulating the glass hall. For now, he says there is much to do to make sure that the 'voices of nature' ring loud and clear at Entopia. – Inforeach