VISTAGE CHAIR EXCELLENCE AWARD 2015
In conjunction with the Chair Meet, Richard presented the Chair Excellence Awards 2015 to the following:
Heah Kok Soon
Dr Laurence Lim
Lim Kah Hooi
Simon Soh
Leong Tek Beng
Cheng Ping Keat
Richard Wong
Mr Cheng Ping Keat was also the recipient for the Robert Nourse Chair of the Year Award 2015.

Cheng Ping Keat (Chair Excellence Award 2015 & Robert Nourse Chair of the Year Award 2015)
VISTAGE CEO TEA TALK IN KUALA LUMPUR CUM AWARDS
Various awards were given to long tenure Vistage members as well as Star Supporters in 2015.
Vistage Tenure Award (20 Years)

Richard Wong presenting the award to Low Han Sin, VCE-57 Group Member (L) and Dato' Peter Tan, VTA-1 Group Member (R)
Star Supporter Award 2015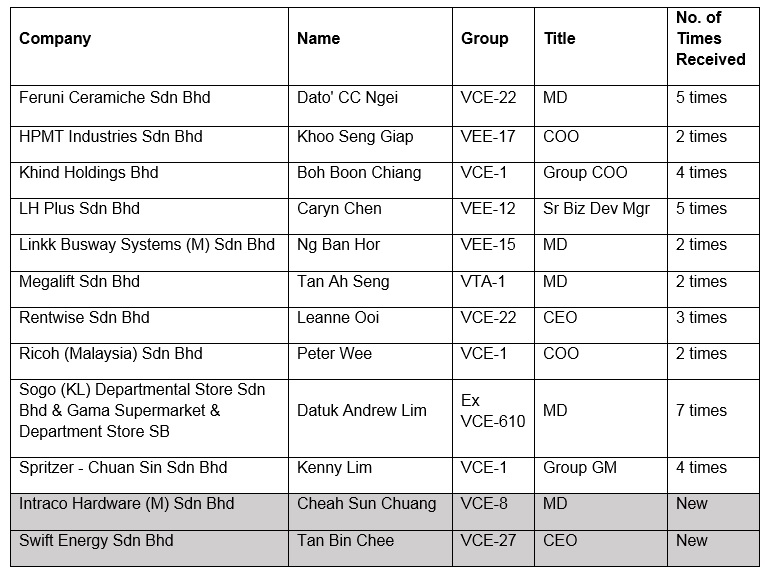 Group photo of Star Supporters in  2015. L-R: Sean Yu, Khoo Seng Giap, Boh Boon Chiang, Caryn Chen, Leanne Ooi, Richard Wong, Alice Lee, TC Yong, Elaine Ho, Datuk Andrew Lim, Yee Jun Ken and Tan Kian Peng
The VISTAGE MALAYSIA Speaker-Of-The-Year Award 2015 went to Chee Hong Seng, Managing Partner, Leap Forth. This special award recognizes a  speaker who fulfils certain conditions, namely:
One with a high volume of well-scored and highly engaging presentations, full of content relevant to the Vistage member community.
A minimum of 30 Vistage presentations overall
A minimum of 9 presentations within the designated year — and receive a cumulative average scoring of 8.5 or higher for both content and delivery.

Chee Hong Seng receving his Speaker-of-the-Year 2015 award from Richard Wong
OUTSTANDING LEADER
Vistage Singapore member A. Gregory Bachmann was selected as an Outstanding Leader in the 2016 Singapore 1000 and SME 1000 Companies Awards. Bachmann has been Director and Chairman responsible for Dymax Corporation and its subsidiaries worldwide since September 2005. Dymax Corporation is a leading manufacturer of advanced light-curable adhesives, coatings, oligomers, light-curing equipment, and fluid dispense and filling systems that work together to optimize assembly processes.
(L) Greg Bachmann, Director & Chairman of Dymax Corporation
BIGGEST CURTAIN SHOWROOM IN MALAYSIA
The Malaysia Book of Records awarded the "Biggest Curtain Showroom in Malaysia" to the MK Curtain Group. The company was founded by Group Chief Executive Office, Dato' Calvin Khiu, a member of VCE-30 chaired by Dr Law HN.